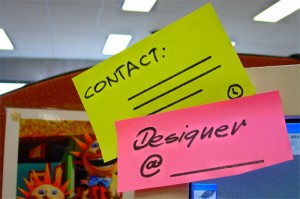 Nope.  You don't need a professional web designer to build a website…just like you don't need a builder to remodel a house.  There are plenty of DIY website development tools just like there are oodles of DIY home remodeling tools. Anyone can put up a webpage.  Truly.  Anyone can.  So, why hire a professional web designer?
Well, let's start by asking: why hire a professional builder for your home construction? Most of us would hire a professional builder because of his or her skill, expertise and track record.  I'd probably also hire a professional because the outcome would be guaranteed on some level.  The ability of the builder to take all the raw materials, the vision, the blueprint…and make it into a piece of architecture that meets my specifications is worth the money.
Web designers are kind of like builders.  We use our skills in technology and marketing to build a site that meets the specifications of our clients.  We have developed skills (like craftsmen or women) that ensure our websites succeed in communicating the vision of our clients…ultimately increasing sales, members or readership.
A professional web designer is worth the money if you value your brand, your marketing and your time.
1. You value your time.
Often, small businesses try to keep every project in-house so keep costs down.  We get that.  We are a small business!  But, what often happens is DIY projects end up costing the small business owner money in time lost on selling their own products and services (writing from experience here.)   If you've ever pulled an all-nighter on your 3rd pot of coffee (or liter of Mountain Dew), reading the upteenth forum article on how to insert "xyz" into your "widgetized area", only to find that your absolute perfect execution of the tutorial did not produce the result you wanted, you know how difficult it can be to try and master professional web development as an amatuer.  It's frustrating to spend time making mistakes and learning a whole new industry when you could be doing what you do best: selling your products, services and running your business!

Professionals in any trade have a wealth of knowledge that makes their work time more efficient and effective.   That's part of what you are paying for when you hire a professional.  You are also paying them, so you can have your own time back!  Give yourself the chance to pull the all-nighter on developing your next book idea, or product upgrade, or sales presentation.  Don't pull it on web development.
2. You value your marketing.
Aside from mastering the technical side of web design (understanding how to create a web page, upload files, install WordPress, etc.) a person needs to know how to package content…or market.  A professional web designer knows how to organize content so it will make sense to the user.  It's important to have a professional help you package your message, products and services.  Site navigation, section headings, images, videos, etc. all need to be placed in a meaningful order, so your site is user-friendly.  Words and images are powerful when communicating online.  We often say, "Your website is talking about you."  You want to make sure it's saying what you want to hear.
3. You value your brand.
Professional web designers know how to make a website stand out.  They know all the ways to visually and textually communicate the personality of your company.  In today's marketplace, you have to have a niche or you'll be passed by.  Often, this kind of brand identity requires customization…and customization (just like in home remodeling) requires an expert.  Branding is more than just putting your logo up in the website header!  It's woven through everything: fonts, images, content placement, layout, verbiage.  A templated website DIY site cannot always provide the flexibility you need to clearly communicate who you are and what you do. By "saving money" doing it yourself, you may loose your market niche in the end…which would result in a lot more financial loss than the upfront cost of a professional website.
So, if you value your time, your marketing and your brand, we think a professional web designer would be worth the cost.  Get a free estimate!  You might be surprised how little it costs to pay someone else to design your website.  If you are still unsure about whether or not you need a professional, stay tuned for our next post, where we'll provide 5 questions to ask yourself to help answer that question.